Staff members of Preston-Schilling Funeral Home, Ltd. are caring and experienced professionals who understand that each family is unique and has personal requests and traditions. These requests and traditions are of utmost importance to our staff of licensed funeral directors.
---
At a time of loss, every family needs compassionate care, service, and respect. And, a comfortable, secure place they can turn to. That's why area families have placed their trust and confidence in Preston-Schilling Funeral Home since 1904.

As a family-owned and operated funeral home, our staff provides families with the most personal and meaningful funeral care assistance in the area. We offer guidance and support in selecting services that meet the needs of every family member. And, it's only after we're able to help families find comfort during life's most difficult moment, that we know we've done our jobs.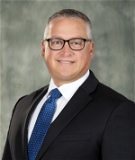 Jesse P. Partington
Owner, Licensed Funeral Director
Jesse was born and raised in Amboy; the oldest of three children of Jesse M. and Ronda (Bonnell) Partington. Following graduation from Amboy High in 1992, he joined the U.S. Air Force in 1993. After being honorably discharged, he attended Sauk Valley Community College, Dixon, and Worsham College of Mortuary Science, in Wheeling, IL, graduating with a mortuary science certificate in September 1998. While attending Worsham College, he lived and worked at N.H. Scott and Hanekamp Funeral Home in Glenview, IL. Returning home to Lee County, he obtained a job with Preston-Schilling Funeral Home, in Dixon, as an apprentice, moving on to becoming a licensed funeral director, and has since spent his entire mortuary career at Preston-Schilling Funeral Home; working his way to manager of the funeral home, and eventually to owner. Jesse and his wife, Sarah (Wolfe), live in Dixon with their two daughters, Lola and Ayla. Their son, Ethan, is a graduate of Columbia College, Chicago. He lives in Chicago and works for Kohl's Corporate. Lola is a recent graduate of Educators of Beauty in Sterling, and works at Bombshell Boutique in Sterling. Ayla is a current sophomore at DHS, and is involved in volleyball. Jesse and Sarah are active members of St. Patrick's Catholic Church, Dixon. Jesse is a long-time member of the Dixon Kiwanis Club, Dixon Elk's Club, Dixon Knights of Columbus, Illinois Funeral Directors Association, and the National Funeral Directors Association.